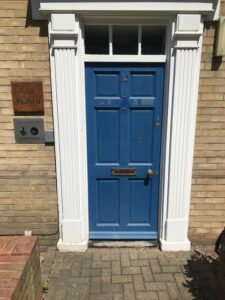 Referral and Registration Process July 2022
See also for more information about Personality Disorder:
Other organizations that might be helpful.
Please visit
http://mnessexmind.org/how-we-can-help/useful-links/ 
How to find us: Turn into St. Peter's Street from the traffic light at the bottom of North Hill. On the left, there is a grey daub house with an overhang. Immediately after that, there is a driveway into St. Peter's Court. The barrier will lift up and you can go through. Turn right immediately after that and you will come to the car park where you will find 5 space marked with the name and logo for the Haven Project. The photo at the top is of the driveway off St. Peter's Street.   The bottom photo is the view of our front door from St. Peter's Street.